---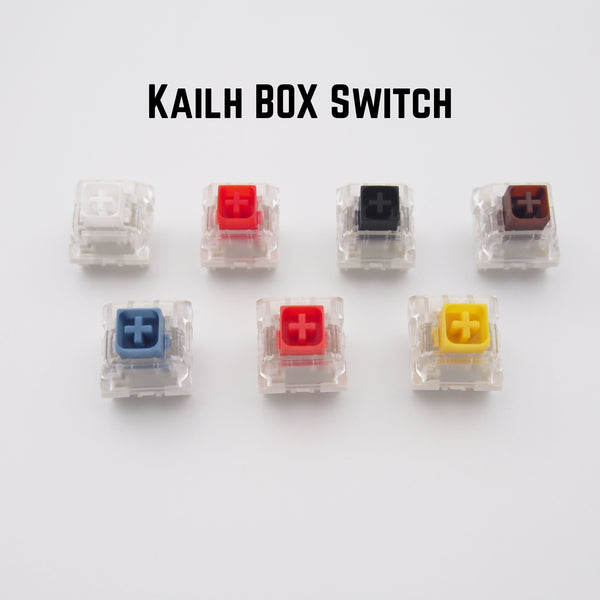 Sale
Table of facts
| | | |
| --- | --- | --- |
| Stem | Actuation force | Feel |
| Black | 60 cN | Linear |
| Red | 45 cN | Linear |
| Dark Yellow | 70 cN | Linear |
| Brown | 60 cN | Tactile |
| Burnt orange | 70 cN | Tactile |
| White | 55 cN | Tactile (audible) |
| Pale blue | 70 cN | Tactile (audible) |
Quantity 1 = 10 switches
Stem issue | read this before buying
 The BOX switch has its x-axis slightly wider than other switches (around 0.2mm wider). This has been reported to cause damage on keycaps, especially GMK and Maxkey keycaps. We are therefore selling these at a discount with no returns accepted. More details can be obtained here.
---
Dongguan Kaihua Electronics Co., Ltd (originally named Longhua Electronics ) was founded in 1990. Specialized in R&D, manufacturing and marketing of precision electronics, switches, jacks, digital encoders, connectors and other electronic parts. Mainly applies all kinds of electronic parts in different fields, such as communication products, portable products, computer peripherals, household electrical appliances, measuring instruments, medical equipments, automotive electronics, audio and video systems, gaming products, smart control system, digital camera, notebook computer and so on.
Plate mount | compatible with all PCBs
Kailh BOX switches are plate mount switches. They are compatible with all PCBs and SMD LEDs.
Free shipping
Due to the frequent changes in availability of postal services, please refer to the free shipping bar at the top of the website for the availability of your home country.
Shipping rate for smaller orders
The actual rate and approximate duration will be provided at checkout. We have prepared the best couriers for you.